February 25, 2021

Turkish Cuisine: Presented by Sim Senol
Video Recording of the Turkish Cuisine presentation on the EIC YouTube Channel
(This week's ingredients have been shared with us directly by our volunteer chef, Sim Senol. Please note however that some of our chefs might make slight adjustments to the ingredients and instructions based on their own cooking traditions)
Appetizer/Snack: Mercimek Köftesi ("Lentil Balls")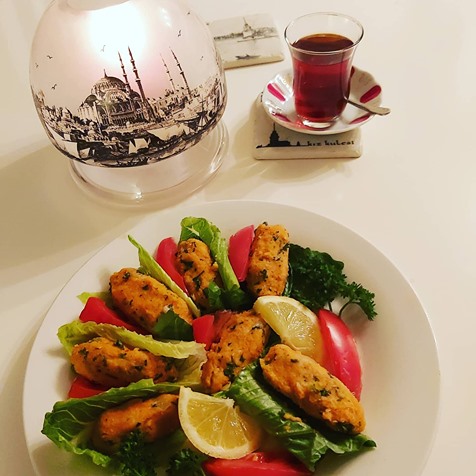 Ingredients/Recipe
1 cup dry, red lentils
1 cup fine bulgur wheat
3 cups of water
1 tsp salt
1 onion (chopped)
1/3 cup olive oil
1 tbsp hot red pepper paste
1 tbsp tomato paste
1/2 tsp dry mint
1/2 tsp cumin
1/2 tsp black pepper
(may add additional crushed red pepper if you like spicy foods)
3/4 cup chopped parsley
4-5 chopped green onions
1/2 lemon (juice)
(may also add chopped fresh mint)
wash the lentils and cook them with 3 cups of water and some salt until mushy. Do not cover the lid, and mix occassionaly. Some water will be left when lentils are done.
Add the bulgur wheat when the lentils are cooked, cover the lid tight and remove from heat. Let it stand for at least 1/2 hour. Fine bulgur wheat will simply cook with the steam.
In a frying pan, stir fry the chopped onions in olive oil, add the pepper and tomato paste, cook for a few minutes. If the lentil/bulgur mix appears too hard and dry, you may add some water into the mix to adjust the softness.
Add the spices, mix well, then add this to your lentil/bulgur mix. Mix slightly with a spoon, and let the mixture cool for a few minutes.
Finally add the fresh chopped greens and lemon juice to your mixture when it's cool enough to mix/knead by hand for a few minutes. Shape your lentil balls to your liking. Serve on a bed of lettuce.
Main Dish: Hünkar Beğendi ("his Majesty likes it")
Yes that's what the name of this dish means. It's essentially a lamb stew served on a bed of roasted-eggplants-in-bechamel-sauce.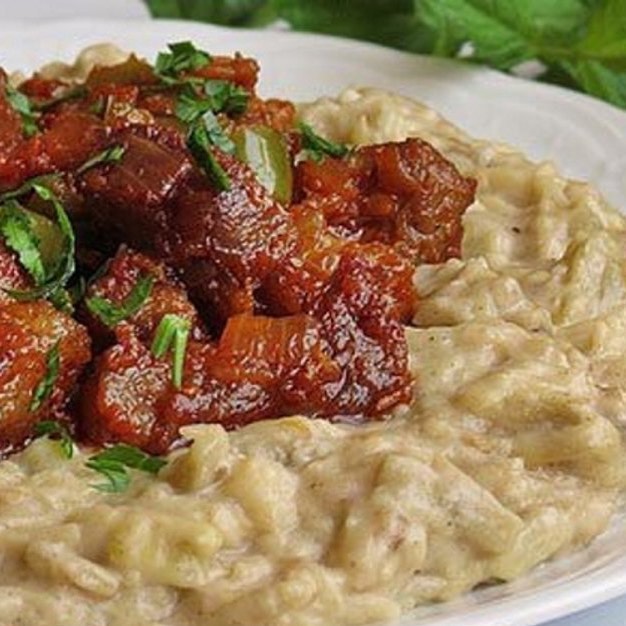 Ingredients/Recipe
For the stew:
2 tbsp olive oil
1.5 lb boneless leg of lamb, cut in small 1/2″ cubes
1 chopped onion (medium/large)
1/2 bell pepper
2 chopped tomatoes
1 tbsp tomato paste
blackpepper to taste
1 tsp salt
1/2 cup water
(in a stainless steel pressure cooker) stir fry the onions in olive oil, add the lamb meat and stir fry until it drains
add the chopped pepper, and chopped tomatoes, stir for a few minutes then add the pepper paste, spices, and some boiling water
close the lid and cook in pressure cooker for about 30 minutes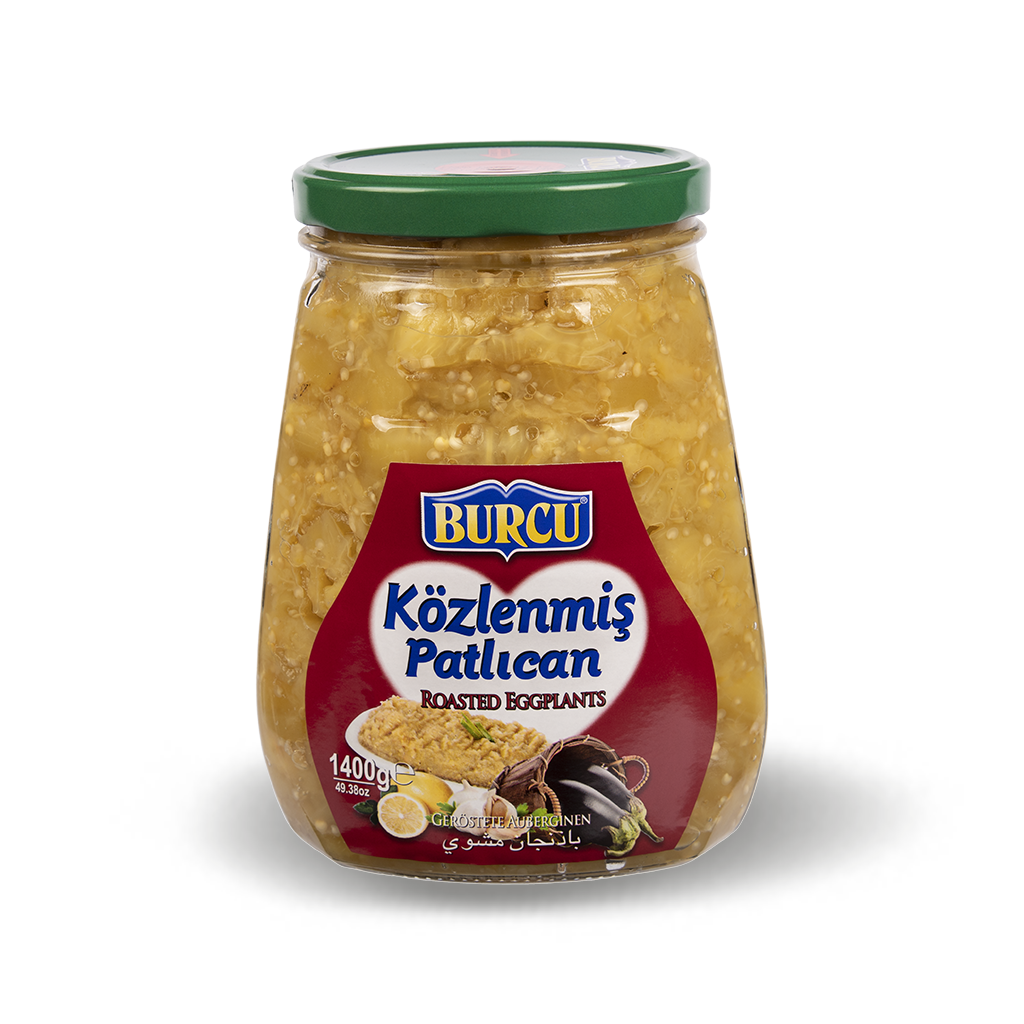 For the eggplant base:
600/700 gr Roasted eggplants in a jar (you can roast from scratch but using this saves a lot of time)
2 tbsp of flour
2 tbsp butter
approx. 1 cup whole milk
1/2 cup shredded mozzarella cheese
Melt butter in a frying pan, and add the flour. Mix and cook until flour is lightly pink
Add the roasted eggplants and mix well with the butter/flour mixture; slowly add the milk and mix well
Finally add the shredded cheese
Serve your stew on a bed of the roasted eggplant mix with the veggie rice on the side.
Side Dish: Sebzeli Pilav ("Veggie Rice")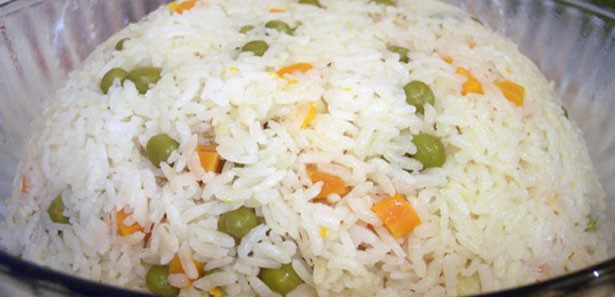 Ingredients/Recipe
2 cups of (calrose) rice
1 tbsp butter
2 tbsp vegetable oil
1 cup of frozen pea/carrot mix
(optional) 1/2 cup of frozen corn
3 cups of water
1 tsp salt
leave rice in warm water for about 1/2 hour, wash and drain the rice
fry in butter/vegetable oil for about 4-5 min
add 3 cups of hot water and salt
cook in low heat for about 10 min with lid covered
put aside, place a paper towel between pot and lid, let it rest for about 15 min before serving