March 25, 2021

Sudanese Cuisine: Presented by Rita Loteka
Video Recording of the Sudanese Cuisine Presentation can be Viewed on the EIC YouTube Channel
(This week's ingredients have been shared with us directly by our volunteer chef, Rita Loteka. Please note however that some of our chefs might make slight adjustments to the ingredients and instructions based on their own cooking traditions)
Sudanese Beef, Peanut and Spinach Stew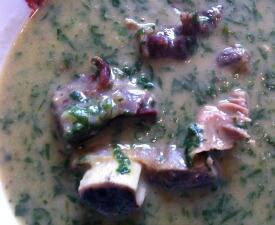 Ingredients/Recipe
1 pound beef stew cubes, preferably on bone
1 onion, chopped
1 + 1/2 cups water
1 tsp salt
1 tsp Maggi Seasoning liquid
3 cups water
4-5 okra pods, chopped (can be frozen)
2 cups cooked spinach
1/4 cup peanut butter (or to taste)
1 + 1/2 tbsp sodium carbonate dissolved in water ("Sudanese baking soda", optional)
Heat oven to 350 degrees F. Add beef, chopped onion, salt and Maggi seasoning to water in oven proof pot. Put in oven, roast for 45 mins to 1 hour.
Heat 3 cups water on top of stove, bring to simmer. Add okra, spinach and Sudanese baking soda (if using). Cook for 10 mins, stirring occasionally. Add peanut butter, stir and simmer together 10 mins.
Add beef cubes to stew. Stir together. Serves 2-3 people.
Aseedah / Fufu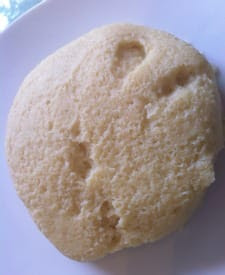 Ingredients/Recipe
3 1/3 cups water
¾ tsp. salt
1 cup corn flour
1/2 cup white or whole wheat flour
Additional 1 ½ cup water on standby
Bring to boil 3 1/3 cups water and salt in a large pot.
When the water is boiling and bubbling, add the flours, stirring constantly.
Turn off the heat and keep stirring vigorously until it comes together in a dough.
Remove from stove and work the dough in the pot until smooth. This can be done by hand using a large wooden spoon and holding the pot steady. Pull the dough toward you with the stick in a strong quick motion pushing it against the side of the pot so it becomes smooth. Alternatively, and much less work, you can use a dough hook and a mixer to knead the dough smooth. This takes about 10 minutes of kneading. There should be no lumps.
Add additional water, a little at a time, if it is too stiff after kneading. Make sure to mix water into dough well. Dough should be soft, but hold its shape.
When the aseedah is smooth, flip it out of the pot onto a plate. It should hold together.
Smooth out aseedah with fingers or spoon dipped in water. You want a smooth disc of assedah on the plate.
Serve with stew or soup. Eat by breaking off small pieces of the aseedah with the fingers (right hand only!) and dipping it into stew or soup.