June 10, 2021

East Indian Cuisine: Presented by Daljit Rupana


Video Recording of the East Indian Cuisine Presentation on the EIC YouTube Channel – IS NOT AUTHORIZED or ONLY SHARED PRIVATELY

(This week's ingredients have been shared with us directly by our volunteer chef, Daljit Rupana. Please note however that some of our chefs might make slight adjustments to the ingredients and instructions based on their own cooking traditions)

Punjabi Style Chicken Curry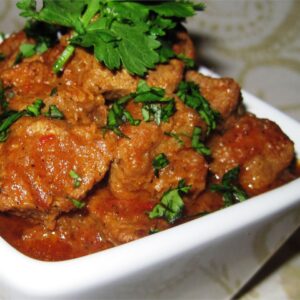 Ingredients/Recipe
500 – 600g. – Bone-in Chicken (skin removed & cut in small pieces)

1 1/2 Ladle – Canola Oil

1 tsp. – Cumin Seeds
1 – Bay Leaf
1 – Cinnamon Stick (small)
1/2 tsp – Whole Black Pepper (crushed)
1/2 tsp. – Coriander Seeds (crushed)

1 tsp. – Salt

1 tsp. – Chili Powder

1 tsp. – Turmeric Powder
1 tsp. Garam Masala
6-7 Cloves – Garlic (finely chopped)
2 Inch – Ginger (finely chopped)
1 – Onion (large – finely chopped)
3 – Roma Tomatoes (chopped)
Serve With Naan, Chapati, or Rice
Method
Marinate the chicken in 2 Tbsp. plain yogurt, salt as per your taste, chili, pepper, garam masala and coriander powder. Leave it in refrigerator for minimum 2 hours.
Heat oil in a pot, add bay leaf, cumin seeds & coriander seeds (keep stirring). After 30 seconds, add onion, ginger and garlic- fry it until onions turn slightly brown. Take the pot off the stove and wait for the mixture to cool down. Blend the mixture.
Place the blended mixture back in the cooking pot. Now add 1tsp salt, 1tsp chili powder, 1 tsp. garam masala and 1 tsp. turmeric powder. Cook for minute or two. Now add Roma tomatoes & cook until tomatoes get soft and blends in with the rest of the mix. You will start to see the oil coming on top – it means your masala is ready.
Now add marinated chicken into it. Cook chicken until 10min, keep stirring every 5 min. Cook for another 5 min, now you will start to see the oil is coming on top of the chicken – that means your chicken is cooked.
Add 1 ½ cup of hot water and cover it and cook for 12 min. Now add 1 tsp crushed Kasuri, Methi and chopped cilantro.