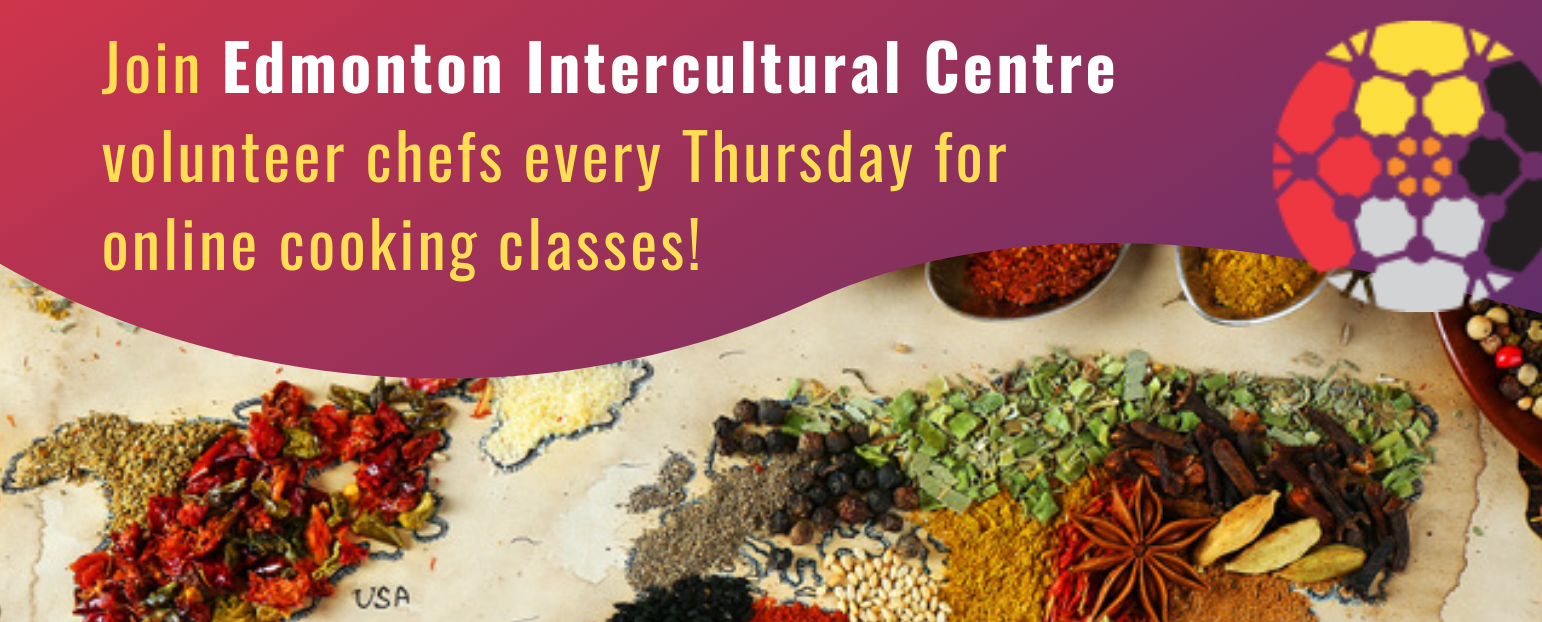 CULTURAL FUSION: World Flavors
Due to the Covid19 pandemic, neither the EIC nor our tenant organizations are holding public events in person, at the Edmonton Intercultural Centre at this time.
In 2021 we are starting a new online series called "Cultural Fusion: World Flavors" These sessions will be held through Zoom. Participation is FREE however, you need to pre register http://tinyurl.com/EIC-worldflavors.
We will post the recipes as our volunteer chefs make them available to us. You can click on the link for each event to see the recipes ahead of time.
February 04, 2021 (Thursday 5-7pm) – Ethiopian & Eritrean Cuisine (Tigist Dafla)
February 11, 2021 (Thursday 5-7pm) – Vietnamese Cuisine (Nhan Lu)
February 18, 2021 (Thursday 5-7pm) – Somali Cuisine (Mulki Ali)
February 25, 2021 (Thursday 5-7pm) – Turkish Cuisine (Sim Senol)
March 04, 2021 (Thursday 5-7pm) – Indigenous Cuisine (Crystal Auger)
March 11, 2021 (Thursday 5-7pm) – Angolan Cuisine (Tony Muto)
March 18, 2021 (Thursday 5-7pm) – Chinese Cuisine (June Kon)
March 25, 2021 (Thursday 5-7pm) – Sudanese Cuisine (Rita Loteka)
April 01, 2021 (Thursday 5-7pm) – Filipino Cuisine (Marife & Aniela Vince)
April 08, 2021 (Thursday 5-7pm) – Indonesian Cuisine (Fransiska Awasis)
April 15, 2021 (Thursday 5-7pm) – Korean Cuisine (Anny Han)
April 22, 2021 (Thursday 5-7pm) – Punjabi Cuisine (Rajvir Thind)
April 29, 2021 (Thursday 5-7pm) – Ukrainian Cuisine (Millie Schietzsch)
May 06, 2021 (Thursday 5-7pm) – Filipino Cuisine (Grace Sotes)
May 13, 2021 (Thursday 5-7pm) – Peruvian Cuisine (Sheila Rojas)
May 20, 2021 (Thursday 5-7pm) – Sudanese Cuisine (Kiki Maragang)
May 27, 2021 (Thursday 5-7pm) – Jamaican Cuisine (Gabriel Alarenga)
June 03, 2021 (Thursday 5-7pm) – Pakistani Cuisine (Amara Sajjad)
June 10, 2021 (Thursday 5-7pm) – East Indian Cuisine (Daljit Rupana)
June 17, 2021 (Thursday 5-7pm) – Uzbekistan Cuisine (Rita Rudometkina)
June 24, 2021 (Thursday 5-7pm) – SORRY NO COOKING DEMO SCHEDULED
July 01, 2021 (Thursday 1-5pm) – SORRY NO COOKING DEMO SCHEDULED
July 08, 2021 (Thursday 5-7pm) – Jamaican Cuisine (Gabriel Alarenga)
July 15, 2021 (Thursday 5-7pm) – Eritrean Cuisine (Yodit Libab)
July 22, 2021 (Thursday 5-7pm) – SORRY NO COOKING DEMO SCHEDULED
July 29, 2021 (Thursday 5-7pm) – SORRY NO COOKING DEMO SCHEDULED