09 - Ireland
This piece inspired by Rosie's Irish heritage, has many components to it that took her a lot of hours to decide on. As you can see, the sides of the can each represent a color of the Irish flag. On top of each colour base represents something from her history that resonates with her. There is the McQuaid family crest on one of the white sides. Rosie's biological father passed away just after she turned 2 years old and this is his family crest. She very much wanted to share that piece of her father and culture with people. The other white side represents the Vikings that run deeply rooted in her history. She chose Viking symbols that she found beautiful. On the green side of her you can see the Irish tree of life. This is a symbol of longevity, wisdom, and strength. It is accompanied by the silhouette of two rooks (or ravens) which symbolize the aftermath of death or war; the silhouette of a Celtic horse which symbolizes pride & confidence; and in the center of the tree is a Triskelion (translates to "three legs") and is one of the most ancient Irish symbols there are. The symbol is speculated to have many possible meanings around the concept of cycles, rotation, revolution, and competition. Such as; life-death-rebirth; spirit-mind-body; past-present-future, etc.
The orange side of her can shows a Celtic cross full of swirls and knots. Fun fact: most Celtic knots don't have a meaning but are chosen aesthetically by the maker. Surrounding the cross there are some clovers that represent faith, hope, love, and luck. The lid of her piece is what she calls 'splat art' and she chose to use some of her favorite greens for it along with some Celtic swirls and another Viking ship.
And as I'm sure you've noticed, there are sparkles everywhere because, Rosie, just loves sparkles.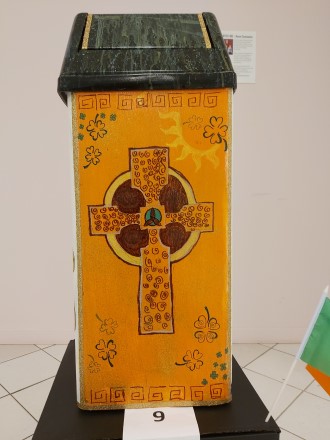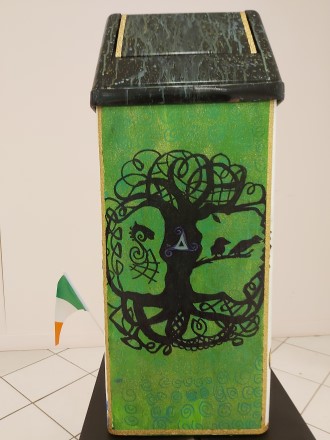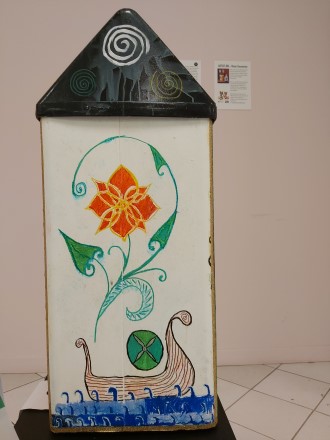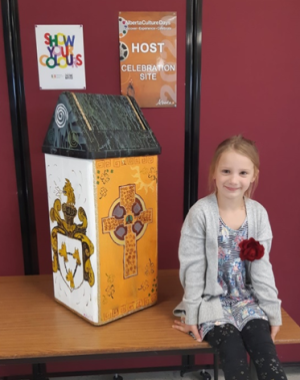 9 - Rosie Constance
About the artist
Rosie, is 6 years old. She has loved art all her life but became particularly passionate about it a little over a year ago after being inspired and impacted by a local artist in Calgary (@TaytaySki).
Rosie, is naturally entrepreneurial and is learning at this young age how to make her passion & talent for art profitable so that it's something she can continue to do into her adult life with abundance.
Along with painting, Rosie, loves to make sculptures, comics, cartoons, and sketches. You can find her on Instagram at @rosieconstance_art or though email at rosieconstanceart@gmail.com