07 - Japan
My name is Jani Galarneau and I'm mixed media artist who uses recycled and upcycled materials in my work.
This initiative of culture, environment and the arts was a perfect fit for me and I'm honored to showcase the country of Japan. All my life I have had a love of Japan and it's on my bucket list of places to visit. A couple of years ago my son and his fiancé went to Japan . They climbed the amazing Mt Fuji so of course I needed to include that . Japan is famous for their cherry blossoms in spring time but I wasn't sure how I would make it flow. I hadn't a set design in my head when I started but I wanted it to be intuitive. Japan has such a rich culture and love for the arts. Their love of pattern is my love too! I wanted to incorporate koi fish and the traditional wave. Now I had something to work with. Soon I realized I needed more and that's where the traditional tea set, temple, shrine, map and flag came in. My goal was to make the viewer feel like they are swimming with the koi fish around the garbage can and to feel the calm like associated with a lot of Japanese art. I hope I honored them .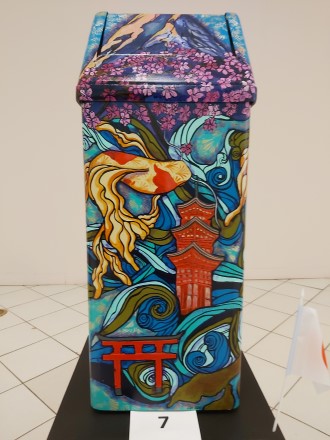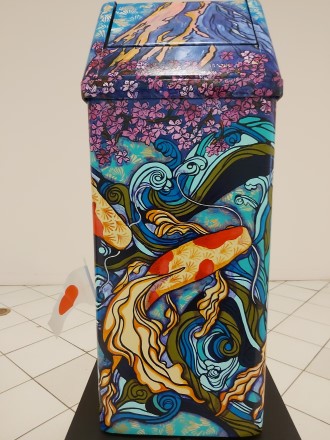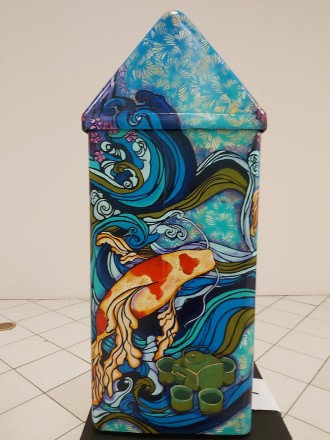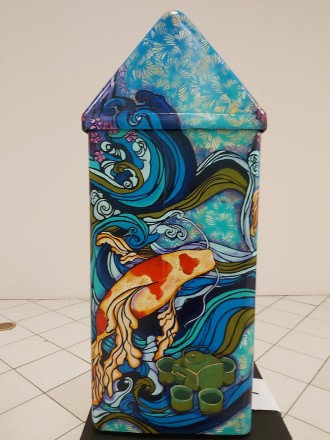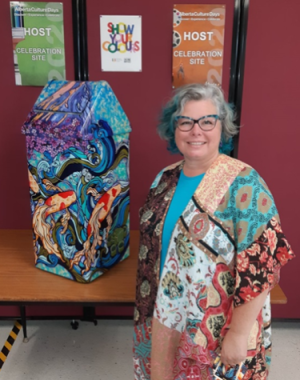 7 - Jani Galarneau
About the artist
International mixed media artist Jani Galarneau is known for her infectious energy and passion for creating. Her modus operandi is vibrant colors with a whimsical style and textures that not only draws the eye, but also makes you want to experience the art by touch. Jani brings her unique style together with many found objects as her passion for recycling and upcycling is key to her work. Currently she is teaching in the United States alongside Disney Legendary Imagineer, Terri Hardin Jackson. You can find her work at art galleries across Canada and at the Royal Alberta Museum.
Facebook: Inspirations by Jani
Instagram:janigalarneau
Jgalarneau@live.ca
780 994 9210