25
When I began this project I knew that I wanted each side to represent a different part of my cultural background and was immediately drawn to the bright colours of each country's flag.
The next part came out of the idea of a scarf.  A few years ago when my parents were in Scotland visiting family they purchased me a plaid scarf. At first I planned on having that scarf wrapped around the entire trashcan but soon it transformed into a scarf that had a pattern from each country represented, tying together each of my cultures.
Then came the plan for the flowers. My mom loves flowers so I quickly decided that national flowers should be included on each side. Scottish thistles, Czech roses, French iris' and Hungarian tulips.
Then, my dad suggested putting the silhouette of a famous location from each country. He was especially excited to have me add Urquhart castle in Scotland, a place he had actually been to on that very same trip to Scotland mentioned above.
The lid was an ever growing and changing design. I decided to go with a symbol to represent each culture and their national motto.
Not only does this trash can's design represent my cultural backgrounds. It also represents the creative ideas of my parents who gave me their genes so I could proudly be Scottish, Czech, French and Hungarian, all rolled into one. your ideas and goals. Always remember that LOVE conquers all and You are already everything you want to be!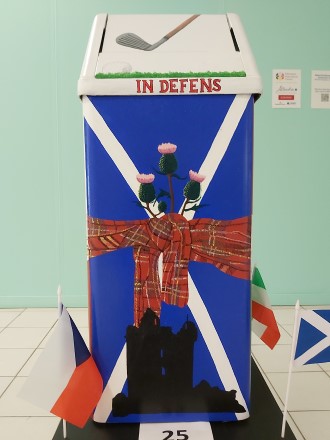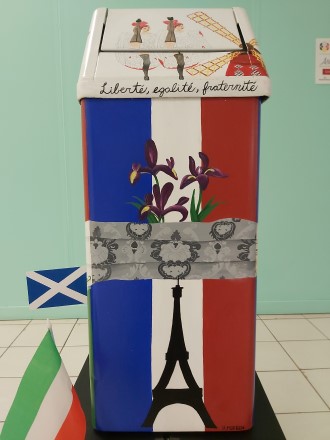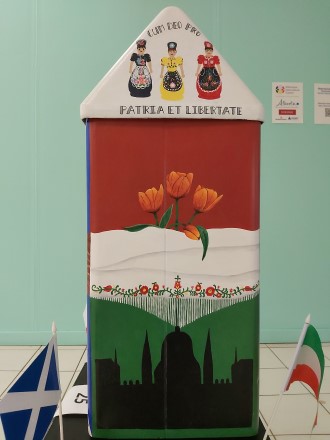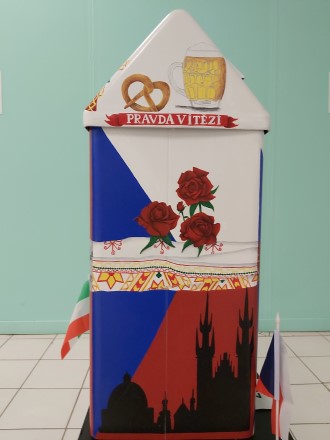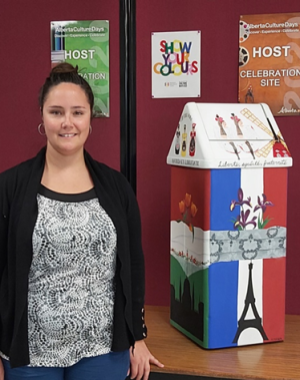 25 - Heather Morren "The Handmade Yogi"
About the artist
The Handmade Yogi is a local Edmonton artist. She works mostly in acrylic paint but also dabbles in decorative wood burning and in functional knitted products. She draws inspiration from the unfathomable colour combinations of a sunset, the elegance of the curves of the human body, and the extensive variety of animal scales, plumage and fur so uniquely developed. Most recently TheHandmadeYogi has been working with a variety of pet owners to create one of a kind paintings of their much beloved animals.
Heather Morren
TheHandmadeYogi
Instagram: @TheHandmadeYogi