24 - Universe
"To develop a complete mind:
Study the science of art; Study the art of Science.  Learn how to see.
Realize that everything connects to everything else."
-Leonardo da Vinci
Gaia; Despite the worlds turning matters, there is one issue that has been left in the shadows. Throughout working on this project with the objection of bringing Canada closer, I found myself pondering on the Children and women's voices who are lost in the crime of Human trafficking.  This is something that has greatly impacted North America with over 600,000 missing cases reported annually. I have provided an Information board on the back of my message bin to bring awareness to the issue for my community to gain some insight. This is important as Children are the seeds that create a strong foundation for our future. In my piece I wanted to express our connection to the Universe, specifically planet earth, the very Gaia we nurture, grow and respond to. I have grown fond in finding the connection to each other and the ground beneath our feet. It all starts in the way we perceive life in our mind, for everything has a reaction to our action. This is why it is important to focus on the positive aspects of our day to day activities. Although we must not become too comforted in our progression without aiding those who are further behind in their journey. In my project I have made a monument in remembrance for the loss of innocence with a light festival, bringing up the importance of protecting our children and those taken advantage of in human trafficking rings worldwide. Signifying my message bin as the Universe I encourage you to write down a loving message or motive that you would like to see come forth in your lifetime here. Bringing your thoughts from the spiritual realm into physical realm is a good way of manifesting your ideas and goals. Always remember that LOVE conquers all and You are already everything you want to be.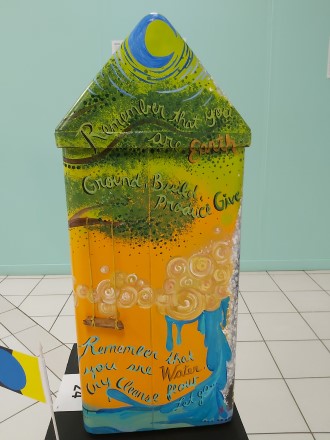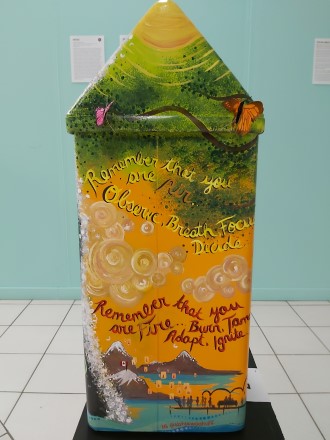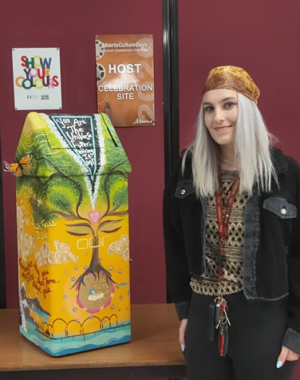 24 - Katya Wootliff
About the artist
My name is Katya Wootliff and I am a freelance multimedia artist based in Edmonton, AB. I started painting at a very young age and further developed my talent through school gaining an Honor reward and being able to display my work at the University of Alberta. I like to work with members of my community to create funky pieces that incorporate reusable material and random finds from garage sales, donations or second-hand stores to fulfill thy minds creations. I have also been fortunate to work with local Café; Wild Earth Bakery and Mudpie in completing menu boards for their establishments. When I am not in the Studio, most of my time is spent working at Aurora Sky one of the largest Cannabis production facilities in the world, aiding in holistic medicine alternatives.
Art has become a subjective part of my life in multiple aspects and I am trying to act as a guide for those around me to become more in tune with the beauty of life. Visual communication has taken over many concepts Science has yet to understand or chooses to ignore and for that, an imprint of our interpretation is all we leave for this planet in the human experience.