21 - Turkey
Turkey is a dazzling destination with its vibrant culture, famous foods and vast history. In my art piece, I have used the silhouettes of the most valuable attractions around the country that hold cultural significance.
My creation begins with a portrait that has been inspired by the beauty of the Turkish women. She is enjoying a Turkish coffee, which is a prominent part of Turkish culture. There is an old saying in Turkey; "A single cup of Turkish coffee can create a friendship that lasts for 40 years".
The paintings of sacred and notable attractions wrap all three sides of this artwork. The famed monument, Hagia Sophia, is considered one of the most beautiful buildings globally, which is a must-do for every tourist. The Bosphorus Bridge in Istanbul accompanies this side and is a significant connection between Europe and Asia. Cappadocia's natural wonders are depicted by the "Fairy Chimneys" and attract attention worldwide. The hot air balloon tours provide the most beautiful views of the unique rock formations.
The historic Clock Tower in the metropolitan city of Izmir takes place on the final side of this artwork. Visitors can expect to find large groups of birds around the tower, waiting to be fed. Next to this struc-ture is the famous Temple of Apollo in Side, dating back to 2nd Century AD. It is believed to be gifted to Cleopatra by Anthony, representing his love and respect for her. The architecture and story of both structures hold sentimental value to Turkish history.
Represented by blue, eye-like beads are the "Nazar Boncuk" used to thwart the evil eye; the amulet's significance is to repel evil spirits and keep the wearer safe from harm. It is all about protection. For many centuries, Turkish people have hanged the amulet on nearly everything, wearing them and dis-playing them around the house. If the charms cracks, it means it has done the job of keeping you safe and it is time to replace it with a new one. From cultural values to historical structures, this creation has only captured a small portion of Turkey's treasures.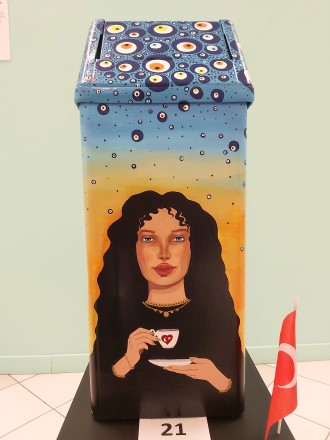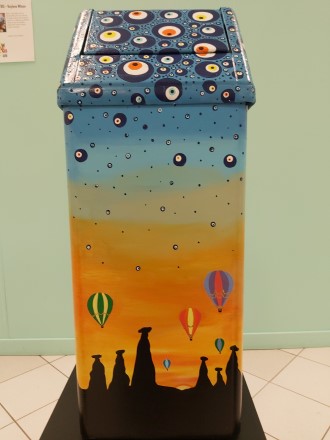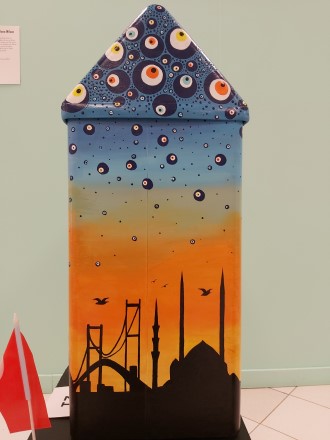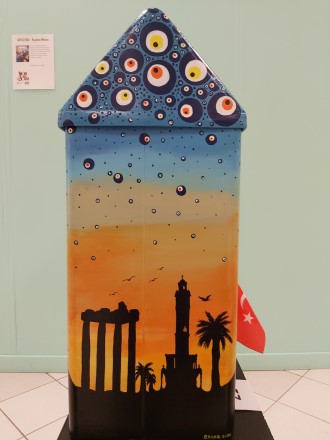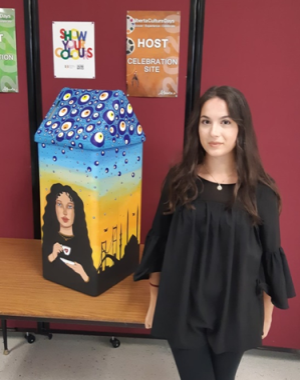 21 - Basak Unsal
About the artist: Basak Unsal
Basak Unsal is a twenty-one-year-old artist based in Edmonton, Canada. As a current university student, she spends most of her time creating portraits that reflect her personal style. Her work allows her to continuously explore various mediums and techniques while creating aesthetically astonishing visuals. The pieces she creates are heavy in traditional oil paint, watercolour, and the incorporation of multimedia techniques. Her portraits can be distinguished by the use of gold details and vibrant colours.
Basak continues to create pieces that push her creative boundaries and is currently open for commissions for clients, and provide art prints of various kinds.
To further explore her work, please visit @bsk.505 on Instagram.