19 - Peru
When thinking of Peru, the first image that comes to my mind is "textile". I envision the fabrics, the bright colours, and the patterns that are commonly found in Peruvian materials. Peru has the longest continuous history of textile production in the world, dating back to roughly 10,000 years ago. The biggest producers of textiles in Peru are women. Female artisans can achieve economic independence through fair trade wages. Textiles are often woven from cotton, along with the wool of alpacas, llamas, and guanacos. One single tunic may require six to nine miles of different coloured fabrics. These tunics are used for many different reasons: to show economic status, for burials, offerings, courting, marriage, and to be worn as everyday clothing. At one point in ancient history, textiles were valued more than gold and silver.
When creating my art piece, I found it suitable to depict a proud female artisan dressed in a complex woven fabric- her outfit representing the soul of Peru. Tied into the design are animals, as it is important to recognize that these woven creations would be impossible to make without them. A cactus and the desert are woven into the design to represent the Peruvian climate, which is known to be relatively dry and warm.
Incorporated into the landscape of the can is Machu Picchu, located in the Andes mountain range. The unique landscape found at this common tourist destination attracts millions of people each year. The lost city of Machu Picchu is considered to be the heart of Inca culture, which may be why so many tourists visit each year. Machu Picchu is believed to be either a ceremonial city of a political royal estate. The people of Machu Picchu used irrigation to grow food. This, along with the surrounding agriculture provided them with a self-sustaining lifestyle.
The top of the can represents the Vinicunca Rainbow Mountain. The mountain is made up of seven different mineralogical compositions, which creates a naturally vibrant array of colours. The bright colours found in this unusual landscape provide tourists with breathtaking photo opportunities. Evidence of this can be found across various social media platforms as travelling young adults are eager to share their stunning snaps with the world.
On the ground beneath the can are Nazca lines, these are Geolyphs that can be found etched into the desert sands of Peru. To visualize, imagine a massive drawing etched into the earth with a simple tool- a wooden stake.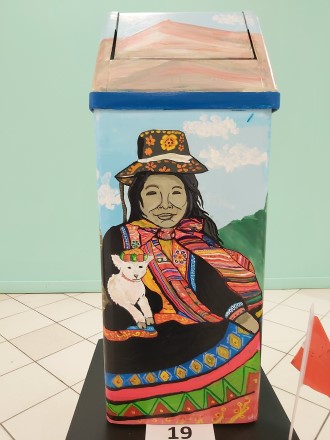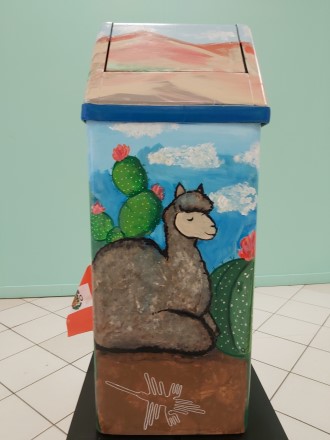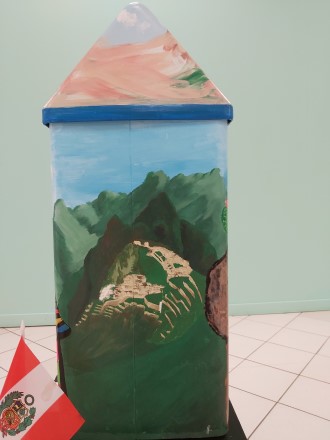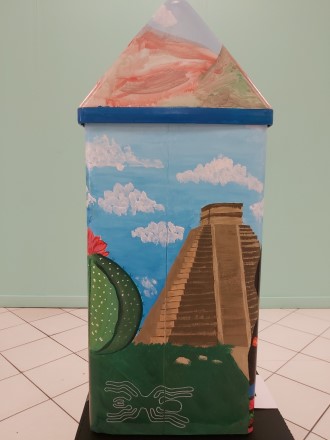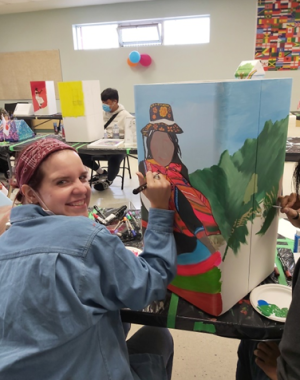 19 - Kaylene Striker
About the artist
Kayle is a self taught artist and Edmonton Native. As soon as she was old enough to hold a pencil she found a passion for art. Although many different medias are used, her strength is graphite. With a niche for realism portraits and animals.
Instagram: Texas_jackalope