18 - Somalia
In the good old days
Did I not go to Beledweyne
Dancing the bullo and dances alikeuntil the dawn.
Community during the rainy season
— Translated Excerpt from Beledweyne, By Hassan Adan Samatar
Envisioning Somali culture first began with creating a palette of distinct red and orange hues. There is something about the warmth and depth within such colours that reflect home to me, and often to anyone who has lived near the equator and witnessed the marvel of sunsets and sunrises. The initial process of putting paint to this unconventional canvas immediately elevated the story of this can, and the vibrant colours took me back to a place I knew. Akin to mood and feeling, movement is a beautiful thing to express in any art form. Knowing how integral dance is to Somali culture, it was only natural for me to build movement into this piece.
Traditional dances in our culture call for specific clothing, embroidered patterns, and again—the distinct red and orange hues. These are the very patterns and fabrics that embellish the top portion of this artwork. Both motion and warmth are observed in the painting as the rhythm of the sunset syncs up with the clapping and swaying of the man and woman.
The Nation of Poets. The cultural peak of Somalia and its diaspora is in the richness of the language through poetry and song; it's many nuances that simply cannot be translated into English without considerable loss of meaning. Poetry is a part of the foundation of how Somali people communicate and understand the world around them. Somali history was told not in textbooks and scriptures, but rather through oral tradition. The addition of the pure language—unfiltered and untranslated—onto the painting's sunset was an incredibly fitting ode to the culture's ties to this art form. Another homage in this piece is paid to Hadraawi—the man sipping his tea in the shade of the tree, and more importantly, an acclaimed Somali poet whose literary contribution to Somali culture is immeasurable and highly cherished.
In the excerpt of Beledweyne included in this piece, the concepts of reminiscent memories, the warmth of the sky's palette, and the community of dance and song were again reciprocated. In a way, this intent aims to harbour the sensation of nostalgia for Somali and non-Somali folks alike—something for us all to share and experience together.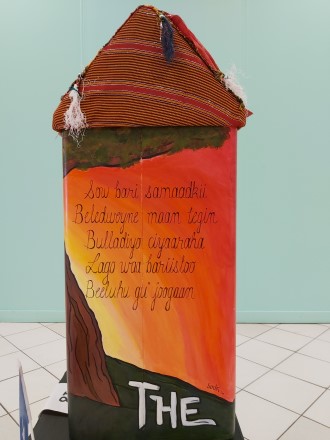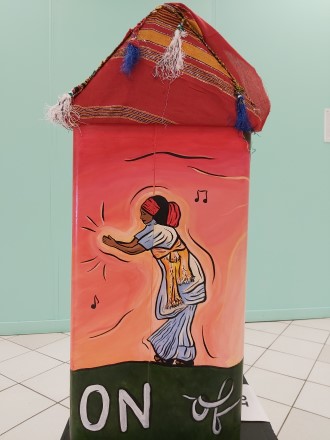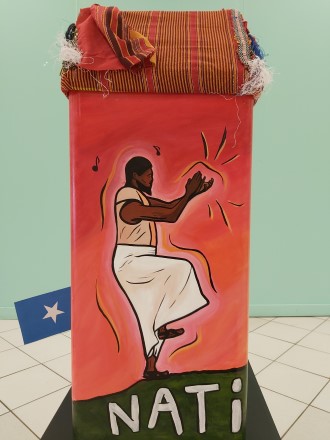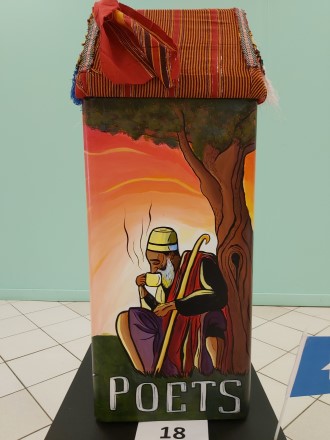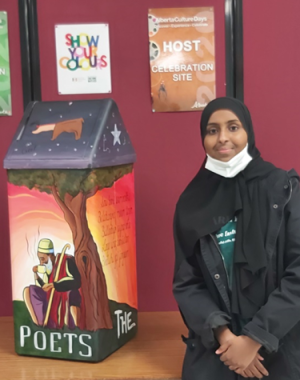 18 - Sumaya Soufi
About the artist
Sumaya is an all-around star student from Ross Shephard High School who is soon headed to the East for college after being as one of 36 Loran Scholars from across Canada.
She has a passion for arts but arts is not the only thing she exceled in at school. Outside of the classroom, Soufi volunteers as a scorekeeper, co-hosts a school podcast, sits on a model UN and is part of the interact club raising money for children in Belize, where she recently went on a humanitarian effort.
Instagram:
@yesimakeart
Jgalarneau@live.ca
780 994 9210