16 - Ukraine
I have had such wonderful feedback on the garbage can that I'm painting for the Edmonton Intercultural Centre's fundraiser. But there have also been a few comments that have questioned the optics of associating a garbage can with a cultural group. Does it have negative connotations?  I've thought long and hard about it and it has lead to the following philosophical rambling:
I appreciate the concerns, but I am not painting garbage. I am painting something that sits quietly in the community and collects the waste we create. It keeps the environment safe, clean, and beautiful.  Like the many ethnic communities that make up Canada, it helps beautify our environment thus contributing to the richness of our community. On a deeper level, in one respect the garbage can is also a good analogy for the life of an immigrant. So many have had to internalize garbage – whether it's in the form of fear or the unknown felt during resettlement, or as racial intolerance imposed by the undereducated. An immigrant so often has to take garbage in and with sheer strength and perseverance continue to shine beauty and continue to support their family and contribute positively to the community. I like the garbage can.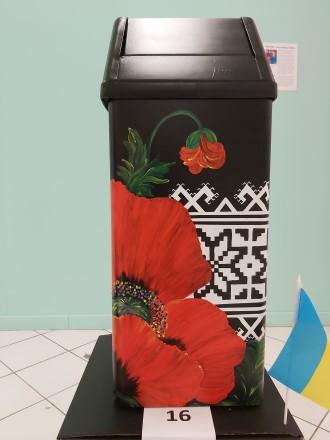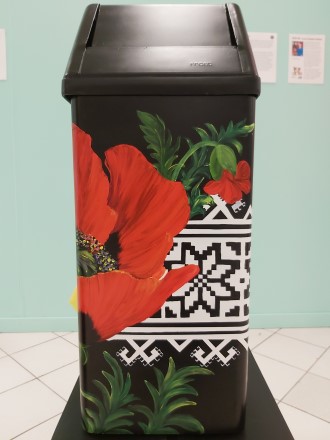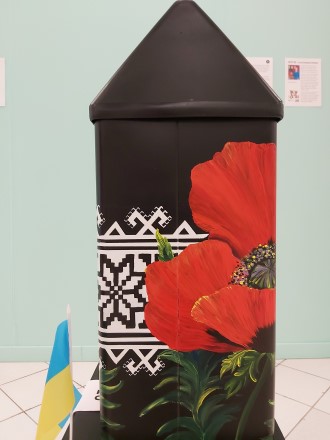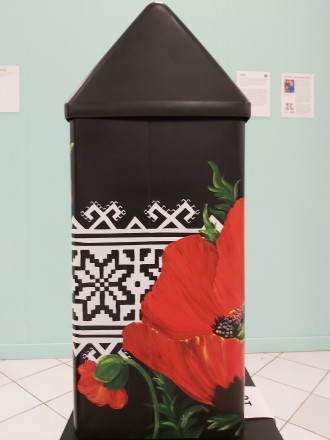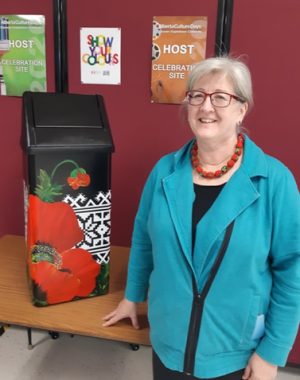 14 - Larisa Sembaliuk Cheladyn
About the artist
Larisa Sembaliuk Cheladyn, was born in Edmonton, and having graduated with a Bachelor of Fine Arts Degree in Art & Design from the University of Alberta, has become an accomplished Canadian artist.
As a painter, Larisa's preferred medium is water colour. The bold and colourful work she produces, demonstrates a unique artistic style that has enabled her to enjoy a busy professional life. She dedicates herself to creating commissioned works as well as producing theme based collections.   Major  collections include:  Flowers of the Americas (1996) Flowers of the Bible (2000), Celebrating Women(2005) and Dance Me… (2008).
Larisa is also known for her illustration of children's books and educational text.  Painting Stories- Having Fun with Language, a retrospective exhibit of her illustrations from the 1980's, was featured by Alberta Historic Sites at the Ukrainian Cultural Heritage Village in 2008-09.