14 - Chile
In this piece, there are four main components. On one side, there are five people very significant to Chile in a specific style originating from an artistic group called La Brigada Ramona Parra. From top to bottom: Gabriela Mistral, a famous poet and the first Chilean to win a Nobel Prize. Victor Jara, a singer-songwriter dear to many Chileans. Violeta Parra, an artist and significant singer-songwriter. Salvador Allende, the president of Chile before the dictatorship, a strong symbol to Chileans during that time and now. The last person is Pablo Neruda, a famous poet and the second Chilean to win a Nobel Prize. On the next side to the right, there is a depiction of the north of Chile. In the background, the Andes mountains. In front of those a condor flying and llamas in the grass; and two people dancing a traditional dance named La Diablada. The next side shows a representation of the south of Chile. The very famous mountains, Cuernos del Paine in the background, a layer of Araucaria trees (monkey puzzle trees) and two Indigenous Selk'nam people with body paint, ready for a ceremony. The last side represents the central regions of Chile. In the back there is a funicular, very common to see in Chile but also a grand symbol in Valparaiso, the garland is also found in a touristic part of Valparaiso. Next to the dancers, there are three clay pots meant to represent the small town of  Pomaire. The two people in the middle are dancing the national dance of Chile, cueca. On the lid there are three more symbols to represent the country as a whole. Grapes, for the massive amounts of wine that Chile produces; red bell flowers named copihues, the national flower of Chile and two kites with the flag to represent September 18th, Chile's independence day.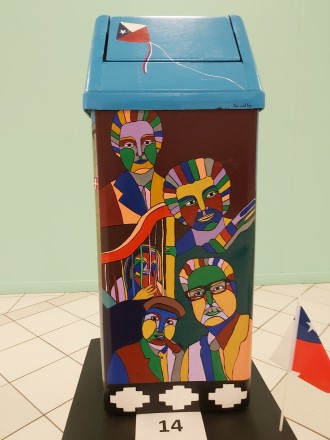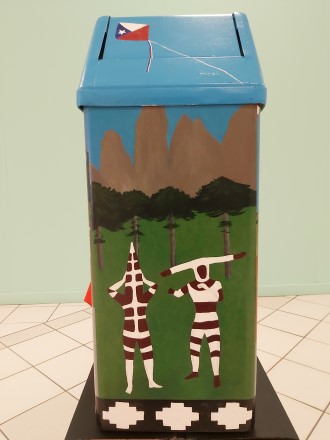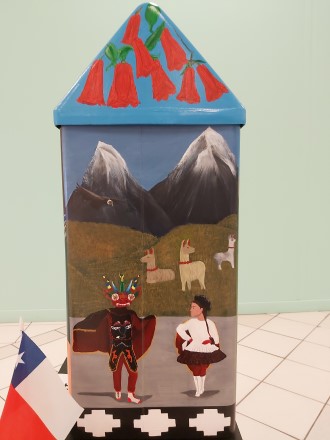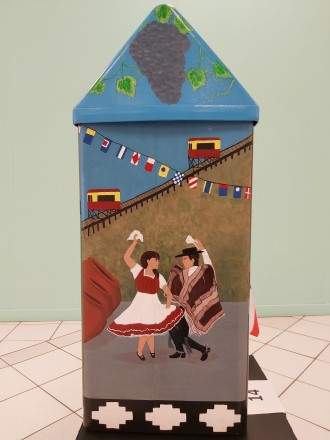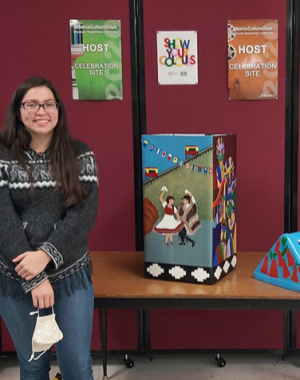 14 - Maria Rojas
About the artist
Maria Isabel Rojas was born in Edmonton, Alberta in 2002. From a young age, she was interested in drawing, painting and sculpting. In 2017, she began attending Victoria School of the Arts to pursue her love for fine arts. Maria took as many visual art classes as she could in her three years of high school including drawing, painting and applied graphic arts. Although she has lived in Edmonton her whole life, Maria was told stories and shown pictures of Chile, where her parents came from. This made Chilean art and culture a big inspiration for a great deal of her artwork. Now Maria is taking a year off of school and will study Baking and Pastry Arts at NAIT next September to continue her passion for art as a baker.
You can follow her on Instagram: @mar_art_portfolio.