10 - Denmark
Fortælling Can
In representing Denmark, I took inspiration from the Danes love and history for storytelling. I wanted to show a story of the old world to the new, with as much little details that I could spread throughout. Fortælling Can is meant to be read as an epic saga. Starting with the centre of Norse mythology, the tree of Yggdrasil and related imagery to that myth. Wrapping around the first side is the root of the tree connecting Midgard, or the land of man. Now we see "the old world," complete with Odin and a viking settlement. Adorning this side is also more myth imagery. As we turn the page again we are met with a wide open ocean. Denmark is a proud naval nation. The largest ship on this side, The Unicorn, was the bigger of the two ships Jens Munk and his crew used as they sailed from Denmark and discovered Canada in September of 1619.  Notably underneath The Unicorn we see Jormungandr rising above the water. In the heavens are more of the old gods. Tuning the page we see a modern Danish boat. Bringing us into the "new world". This side has the most personal meaning to me. Dickson Ab, was founded in 1903 by Danish Americans, later more Danish immigrants settled here including my great grandfather and grandmother. Painted here is the general store that still stands as a museum now, also represented is the first church built in the settlement. Dickson is also home to The Danish Canadian Museum. In the heavens of this final panel we see Idunn, falling from her hands are the apples of immortality. This is meant to symbolize Danes' ability to remain immortalized through storytelling. From epic sagas, to fairytales, to records of exploration; Danes tell stories because it's in our blood. "Art finds its food everywhere," a Danish proverb.
For more images and explanations on this piece please visit on Facebook or Instagram @mariesmadson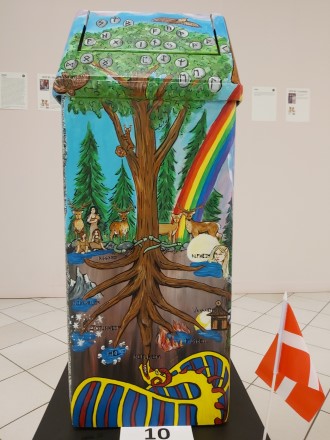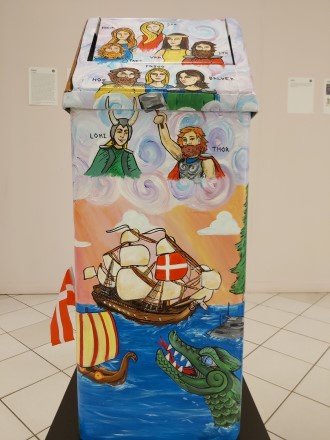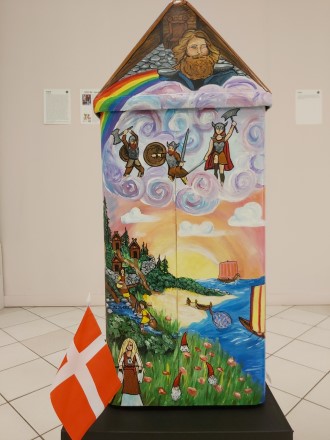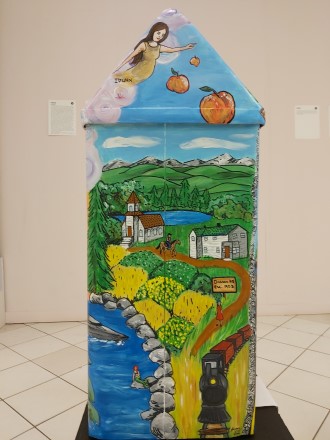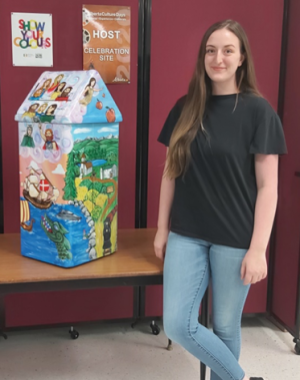 10 - Hannah Lind
About the artist
Hannah Lind is a practicing artist out of Edmonton Ab. Raised in Dickson Ab she was inspired by nature and her love of reading while growing up. Hannah was always drawing and encouraged by her parents to pursue art.
Hannah then moved to Red Deer and graduated from RDC's visual arts program in 2015. She majored in printmaking, sculpture, and drawing. Shortly after she moved to Edmonton and received her Architectural Technology diploma from NAIT.
Practicing out of her home studio most of Hannah's work finds inspiration from Norse Mythology, legends, and history.
"One of my goals as an artist is to grab the viewers attention and pull them into that space of imagination. To explore their own psyche and create their own stories. Art is about inspiring others." -Hannah
For more of her work and more explanation, photos, and closeups of Fortælling Can please visit Hannah on Facebook or Instagram @mariesmadson